Rebuilding...
Video Player
Check out the video above of Marianne and my installation, Ada's Shop. It was installed in the Fifth Avenue windows of the NYPL's Mid-Manhattan branch from December 1, 2010 through January 2, 2011. Ada will return again on March 1 and remain up through March 31, 2011.
› Matt
I couldn't be more excited than to announce Ada's Shop, a new interactive installation by Marianne Petit and myself, which pays tribute to the work of Augusta Ada King, the Countess of Lovelace. Daughter of Lord Byron, Lovelace (1815-1852) is recognized today as the first computer programmer. Marianne and I produced Ada's Shop specifically for the New York Public Library's Art in the Windows series.
Ada's Shop is on display in the front windows at the Mid-Manhattan Library at 40th Street & 5th Avenue in New York City through January 2nd, 2011. Be sure to bring your mobile phone. Choices made on the keypad cause excerpts from Ada's exchanges with Charles Babbage to be read, as Victorian Paper Theatre elements spin within the window.
Additionally, there will be an artist dialog Saturday, December 17th at 2:30pm on the 6th Floor.
Many thanks to curator Arezoo Moseni, my father Daniel Belanger, and Catherine White, the voice of Ada.
› Matt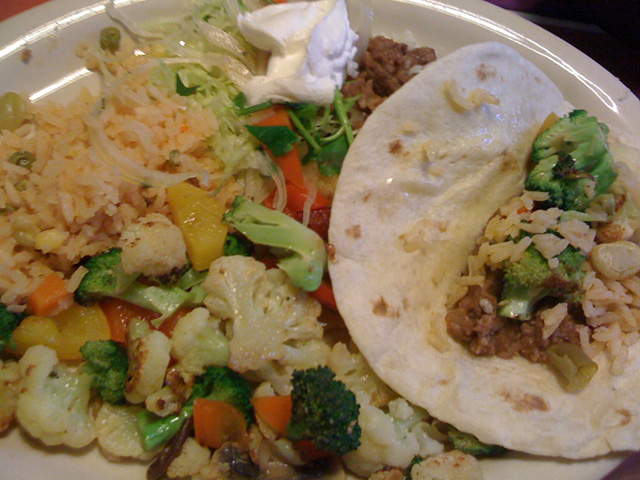 My recent trip to Arkansas was short but sweet. I was there for my father's 67th birthday. He and I spent time at the Hot Springs Documentary Film Festival, one of my favorite long-standing traditions. I got to see the outstanding new Disfarmer documentary. I caught up with old friends. And I ate way too much Mexican food. No I didn't. I ate just the right amount.
› Matt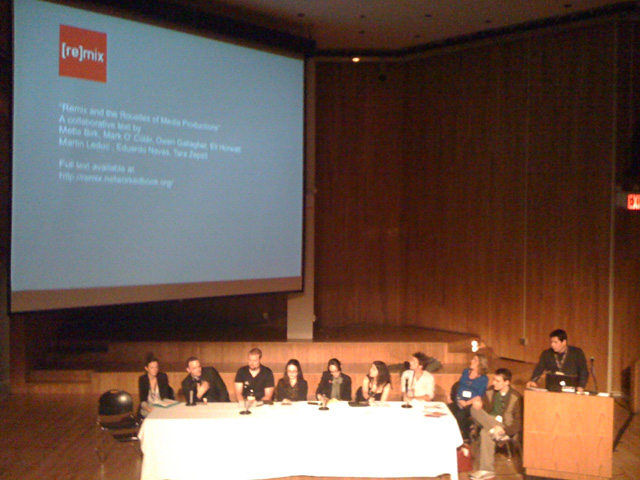 Last year one of the most exciting conferences I "attended" was the Open Video Conference, a two-day summit to explore the future of video. I say "attended" (in quotes) because I was in Massachusetts at the time, and was only able to catch the video stream. It was an amazing conference, like a jolt to my system, and I've been looking forward to physically attending this year's conference ever since. This year ultimately didn't live up to all that anticipation, but there were still several strong sessions including the Keynote by Mike Wesch. The pictured session above, The Theory of Remix, featured a great short reading by Eduardo Navas of Remix Theory. It was nice to meet Eduardo after having worked with him on the networked book project for Turbulence.
› Matt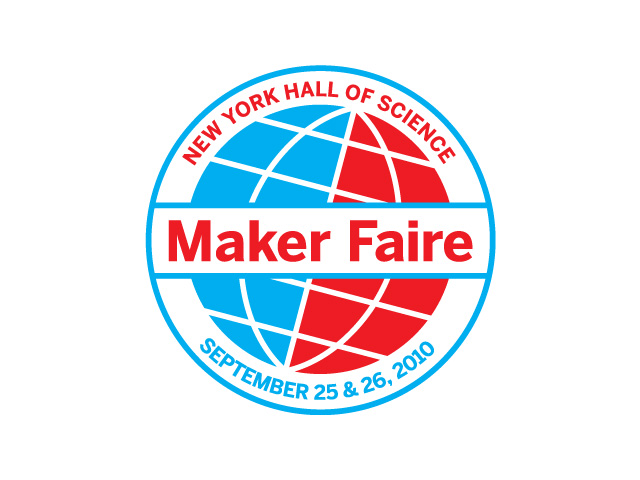 My partner Marianne and I will be speaking at Maker Faire: New York this Sunday, September 26th at the ITP Cafe at 11am about our work at , and in particular the technical aspects of Ephraim & Sadie Hatfield's interactive art installation Not For Sale. We'll share some tips about working with Asterisk, building your own Arduino compatible boards, and maybe even how to make Guacaroni. Maker Faire is being held at the New York Hall of Science in Queens. Many thanks to Tom Igoe for including us. We hope to see you there!
› Matt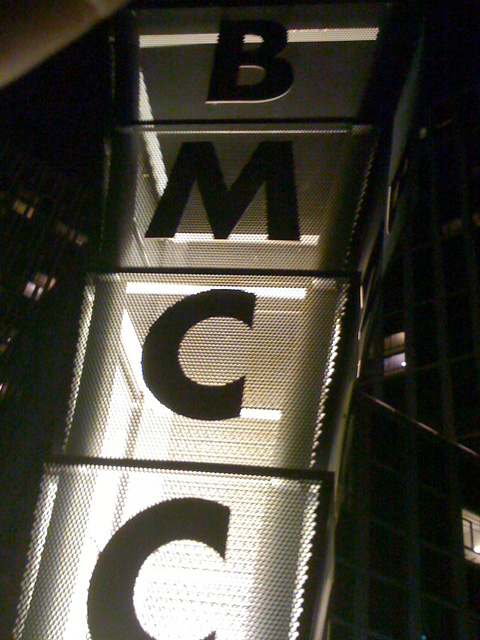 I'm really excited to be back at Borough of Manhattan Community College for another semester. This time I'm teaching MMP 100: Introduction to Multimedia, an intro and overview of multimedia and the Adobe Creative Suite. I'm also teaching MMP 460: Multimedia Project Lab which is a final project class for students. There we'll be focused on building PHP and JavaScript skills, working with WordPress, polishing up portfolios, and producing a final project.
› Matt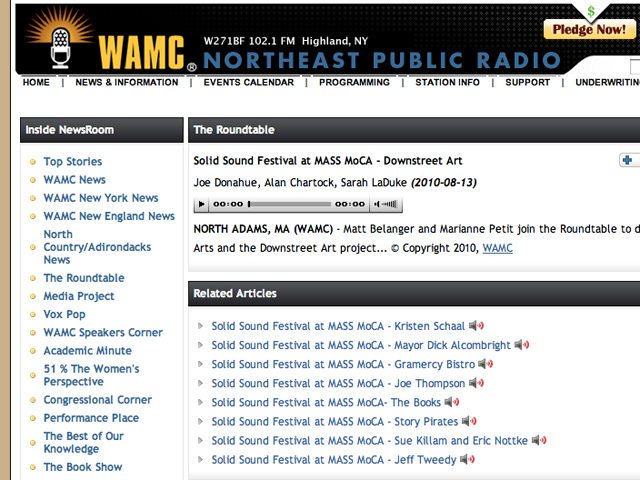 Marianne and I were interviewed live from the Solid Sound Festival at MASS MoCA on Friday by Joe Donahue, Alan Chartock and Sarah LaDuke on WAMC's The Roundtable about our work at Greylock Arts, Ephraim & Sadie Hatfield, Not For Sale, and DownStreet Art. Listen to us here.
› Matt
Check out the video above of the opening event of Not For Sale. The interactive storefront window installation by artists Ephraim & Sadie Hatfield opened Thursday in North Adams, Massachusetts. Viewers are encouraged to call in with their mobile phone, and key-presses activate objects within the storefront. There is also a website participants can access from their mobile phone to activate objects.
The work makes use of the open source telephony project Asterisk as well as the Arduino micro-controller platform. The Hatfields have documented technical aspects of the build process on their blog. They were also recently interviewed by John Mitchell for the North Adams Transcript. An archive of the article is available here.
Not For Sale is part of DownStreet Art, the city-wide public art project designed to revitalize downtown North Adams. It will remain on display through the end of October.
› Matt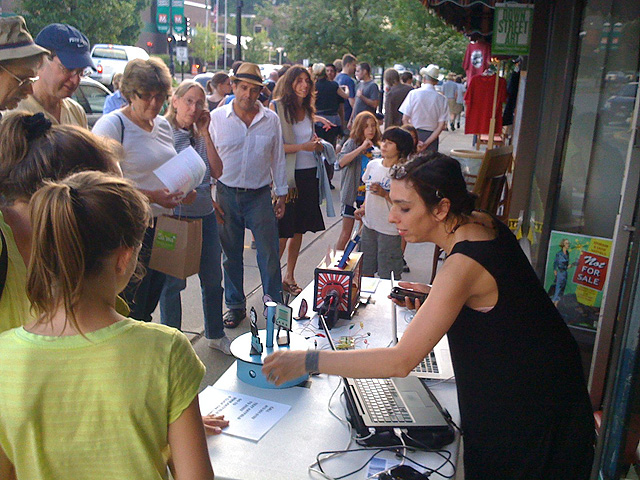 Marianne and I were on hand last night to preview Not For Sale, the upcoming interactive window installation by the mysterious Ephraim & Sadie Hatfield. The work is being produced by Greylock Arts, and is part of the summer-long city-wide art fair in North Adams, Massachusetts that is DownStreet Art. Not For Sale will allow participants to call in with their mobile phone to activate various objects within the space. Follow the Hatfields on Facebook, Twitter, or their very own blog as they work to create Not For Sale. The installation opens July 29 from 6 – 9pm at 65 Main Street in North Adams, and will be on display until October 31.
› Matt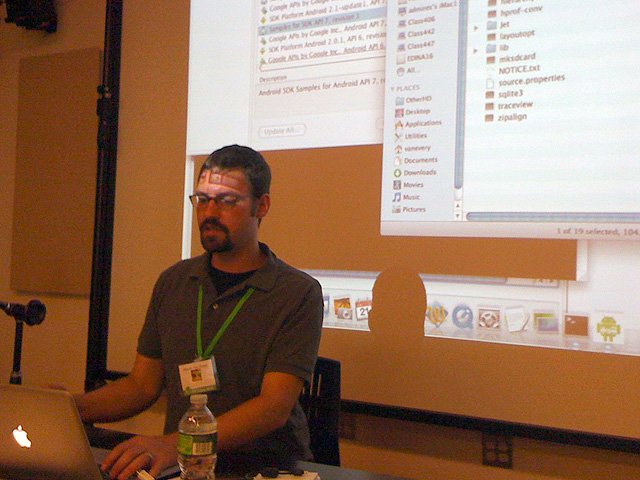 Monday I attended Hello Android by Shawn Van Every. I had attended Shawn's Smartphone Studio earlier, where we played with PhoneGap and Appcelerator, but this session was devoted to getting started with the actual Android SDK. Shawn helped us get situated in Eclipse with all the Android tools, and then guided us through making our first "Hello Android" app. Above Shawn demonstrates the Android SDK.
With so many excellent camp sessions, it's hard to pick a favorite, but Craig Kapp's on Augmented Reality is at the top of my list for the moment. Augmented Reality is really magical stuff. It's a live view of the physical world whose elements are augmented by virtual imagery. The work that Craig does with AR is fascinating. And the way he explains it all is just perfect. For the time being, this is the number one reason to still be involved in ActionScript development.
And I attended another couple of great sessions today. Matt Parker lead a session called Total Eclipse in which he got everyone up to speed on using the Eclipse IDE for Java development. I also attended Peter Menderson's Get Your Hands Dirty! where he illustrated mold making with two-part rubber and plastic compounds as well as plaster. We also made a silicone rubber mold and cast with polyurethane plastic and foam.
› Matt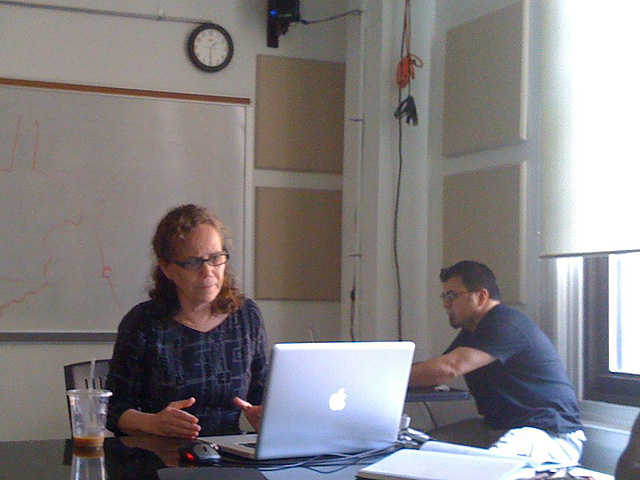 Sunday I attended Public Art Overview by another one of my favorite people, Jody Culkin. I work with Jody at BMCC where I adjunct, and she is an Associate Professor. Jody started by showing some examples of some of her favorite public art works, which, and I didn't pay her for this, included Lumens, a work of Ven Voisey, Sean Riley, and myself from 2008. Jody also covered many of the New York based organizations which fund public art projects, discussed their funding criteria, and showed some of their recently funded projects.
Then I taught my second ITP Camp session, Conversation Starters for Disparate Lovers, in which I covered the many components needed to get an Arduino micro-controller talking with Flash and vice versa. I also introduced Guiseppe, a freeware Graphical Serial / Socket Proxy Problem Eliminator designed specifically to facilitate communication between software developed with Flash and physical computing projects designed with the Arduino. I developed what would later become Guiseppe while working on Lumens, when I needed a better tool for connecting Flash and Arduino than what was available at the time. It's still pretty basic, but it's a lot easier to use than the alternatives. Try it out and let me know what you think.
› Matt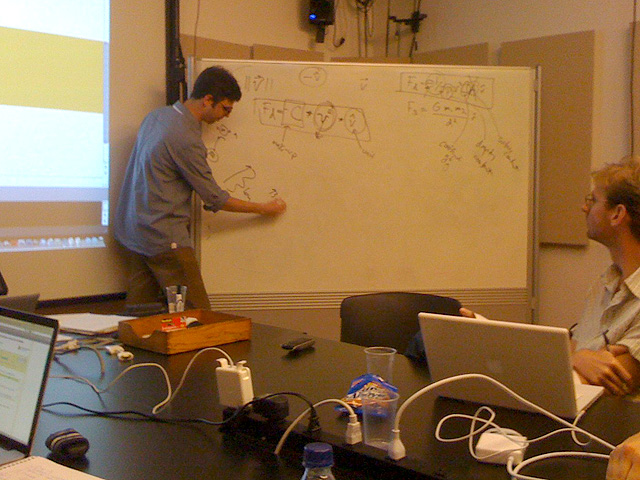 Sunday I took Processing Physics with Daniel Shiffman. Dan was a student with me at ITP in 2001, and now he teaches there full time. It's no surprise really, because he's truly one of the best people I've ever met. His talk on processing physics was a two hour version of his semester long Nature of Code class. He talked generally about physics, and how that translates to code, and then finished with several demonstrations of the open source physics engine Box2D in Processing.
Wednesday I attended Smartphone Studio with Shawn Van Every. Shawn was also a student at ITP around the same time as me. And, like Dan, he is one of the best people I've ever met. He also happens to teach at ITP now. Do you see a trend here? His Smartphone Studio provided a chance to explore the various ways you can create applications for iPhone and Android. We focused on PhoneGap and Appcelerator because they allow for platform agnostic development for the most part. I've gotta say, after the short period of time I've spent with both, I think I like PhoneGap better. Appelerator Titanium seems at least slightly buggy, and the Appcelerator team likes to send a lot of needless email updates.
Friday I attended Gabe Barcia-Colombo's Interactive Video for Artsy Times which provided a fantastic refresher on MaxMSP and Jitter. And finally, today was The Art of the Scrape by Zoe Fraade-Blanar. Zoe gave a conceptual and technical overview of various methods for extracting data from the internet.
› Matt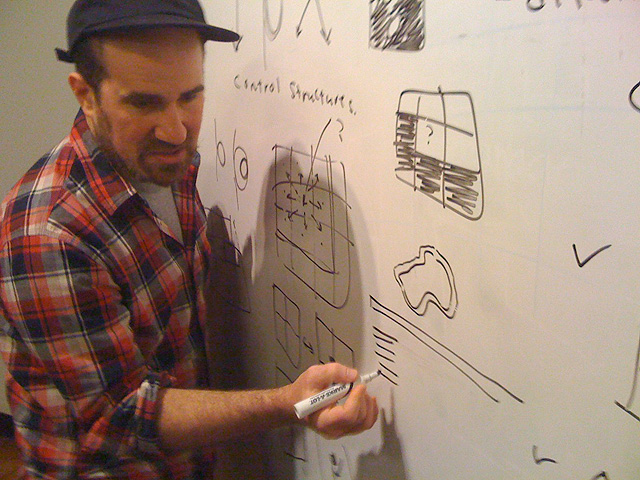 Thursday I attended Information Art with Luke Dubois and Making Things Talk with Tom Igoe at ITP Camp. Luke discussed a great many things related to art in the information age. And Tom crammed an entire semester of Networked Objects into just one night. It was truly amazing!
This afternoon I attended Object Oriented Programming with Thomas Chau. It's never a bad time to brush up on even the basics. Thomas helped me understand some differences between ActionScript and Java. I also caught Software That Sees with Zach Lieberman. Zach, one of the developers of openFrameworks, an open source toolkit designed for creative coding, gave a killer introduction to oF. I look forward to getting my feet wet with this exciting stuff in the near future.
The last few days of camp have been beyond words great. It has already paid for itself, and we haven't yet reached the halfway point.
› Matt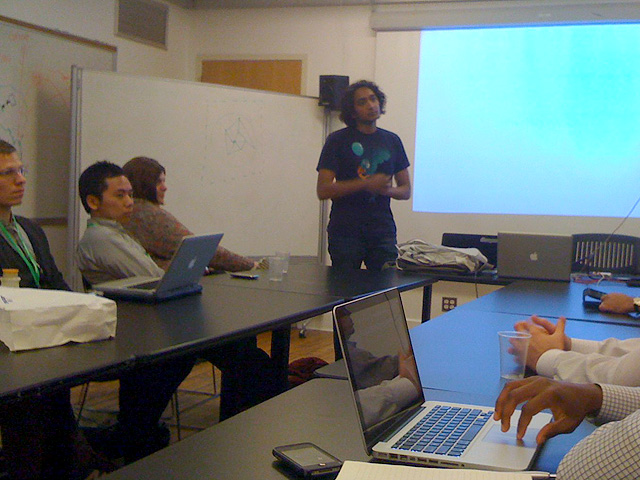 Monday at ITP Camp I attended Intro to Making Things Move with Dustyn Roberts. Dustyn gave a lot of great advice about working with various kinds of motors. I've understood how to control a motor with a micro-controller for a number of years. It's the what to do after that where I get stuck.
I also taught my first session, So, You Don't Hate Flash?. New ITP Chair and ITP Camp leader Dan O'Sullivan kept bugging me about teaching an ActionScript session, and after I said no at least three times, he just created a session and put me in as the instructor. Thanks Dan… Actually, It was a lot of fun to teach, and a surprising number of people still like Flash despite all the haters out there. Thanks to everyone who attended!
Tuesday I attended Marianne's session on Pop Up Books, where she showed numerous paper engineering techniques. The session was a lot of fun!
Today's session was Foursquare API with Anoop Ranganath. Above, Anoop explains the ins and outs of the Foursquare API.
› Matt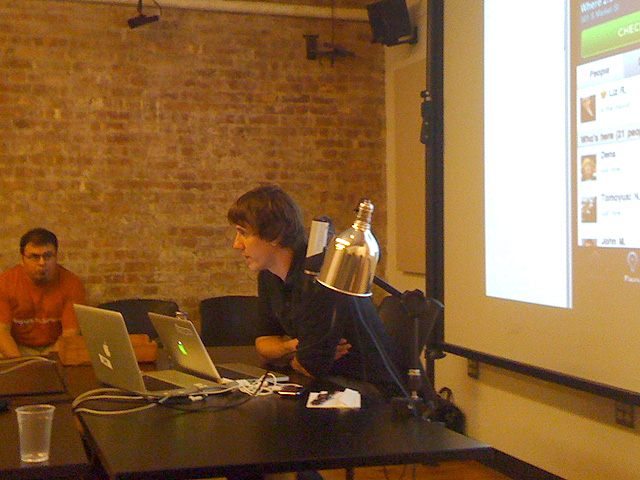 Yesterday's ITP Camp sessions included Observing/Interacting with African Diaspora Communities with Farai Chideya and Location, Location, Location with Dennis Crowley. Above Dennis Crowley discusses his work with location-based social networking. I was a little worried at first because he seemed completely unprepared, but Dennis came through with a completely fascinating off-the-cuff style discussion of social media.
The only session I was able to make it to today was Getting Started with Wearables by Kate Hartman. Marianne and I have shown Kate's work before at Greylock Arts. She provided a great overview of soft circuits, including conductive materials and the Lilypad hardware. The Lilypad is an Arduino board designed specifically for wearables and e-textiles.
› Matt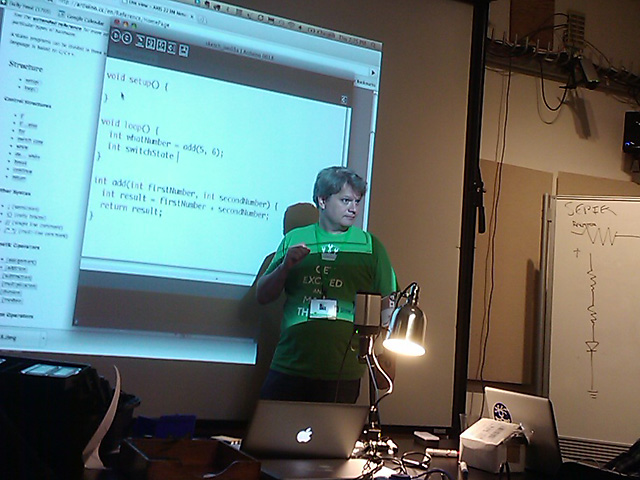 Tonight's ITP Camp session was Hello Arduino: A Physical Computing Studio, taught by Tom Igoe. Tom introduced the Arduino microcontroller as a platform for Physical Computing. He showed several different types of Arduino boards as well as many different sensors. Tom discussed the general properties of an electronic circuit. He also Illustrated digital and analog input and output using the Arduino IDE and language. And he wrapped up by briefly covering serial communication.
The Arduino didn't exist when I took Physical Computing at ITP in 2001. I used the BX24 to create my RC Hot Rod. And when I worked on Lumens in 2008 with Ven Voisey and Sean Riely, using the Arduino, we leaned heavily on the brains of Tom, John Schimmel, and Larry Alice. I learned strictly what I needed to know to accomplish the task. As a result there were a lot of holes in my knowledge. So it was great to get this official introduction from one of the greats in the field.
Thanks to Jody Culkin for the photo above!
› Matt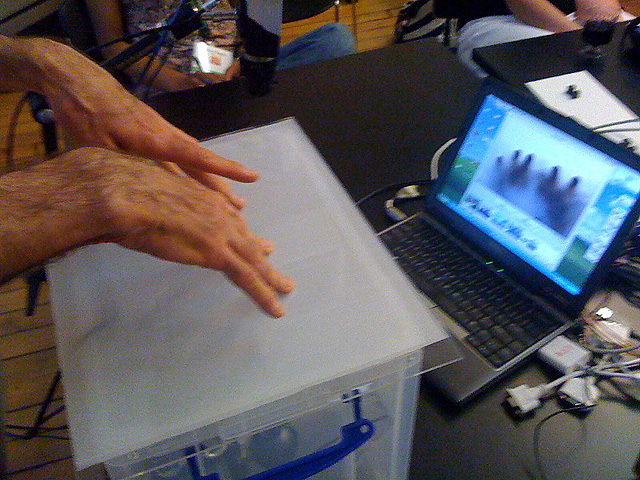 Last night's ITP Camp sessions where Design Something That Solves A Problem by Dustyn Roberts and Sensors and Interface Board–Easy! by Stephen Lewis.
Ms. Roberts presented several techniques for problem-solving, brainstorming, and idea evaluation.
Mr. Lewis showed how easy it is to work with the Hagstrom Electronics KEAD6 Board. The KEAD6 is essentially a no to little programming required alternative to the Arduino. It features 6 input channels, which can be attached to various switches, potentiometers, or sensors, and individually configured through the use of a setup utility. The board will then send keystrokes or joystick commands to the attached computer. The setup requires Windows, but the board will then work with a Mac or PC. It looks like an great system for testing new sensors, prototyping, building simple projects, and teaching children about electronics.
Lewis then showed us how to construct a multi-touch surface in Processing for under $100 using a clear box, a sheet of plexiglass, a mirror, and a webcam. Pretty badass!
› Matt
ITP Camp began tonight, and the first session I attended was Design Frontiers in Biology and Materiality by Amanda Parkes. Ms. Parkes is a PhD candidate in the Tangible Media Group at MIT's Media Lab. She is a designer interested in the relationship of gesture, form, materiality, and computation in the context of hybrid physical-digital objects with a research focus on developing intuitive and investigative learning and design tools. The session provided a fascinating introduction to biological systems as a frontier for artistic expression. I'm really looking forward to many of the upcoming sessions.
› Matt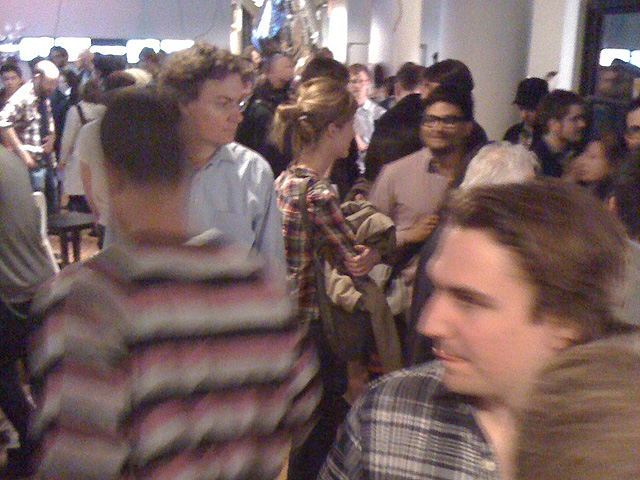 No video this time. Sorry folks! I forgot my Xacti in Massachusetts. But I did want to post a note about the ITP Show. Check it out if you can. It's always a good time.
› Matt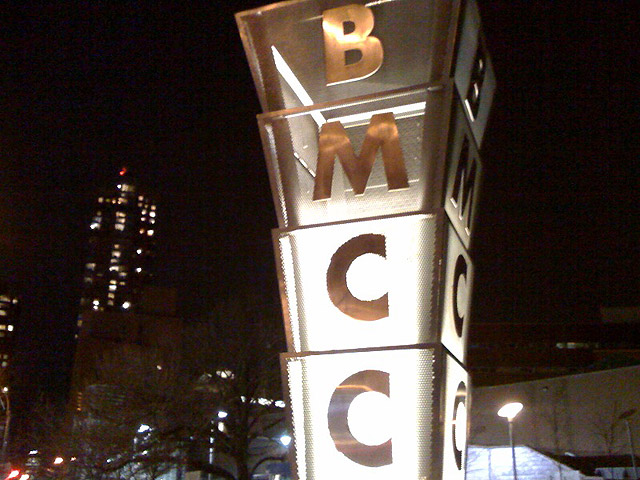 I'm really excited to be teaching again at Borough of Manhattan Community College this semester. I taught ActionScript 2.0 and 2D Animation in Flash and After Effects at BMCC back in 2005. This spring I'm teaching ActionScript 3.0 and HTML/CSS/JavaScript. My classes are MMP230: Interaction Design with Multimedia Programming and MMP200: Multimedia Design. Thanks to Jody Culkin and Cynthia Karasek for finding me an adjunct spot within the Media Arts & Technology Department.
› Matt