Rebuilding...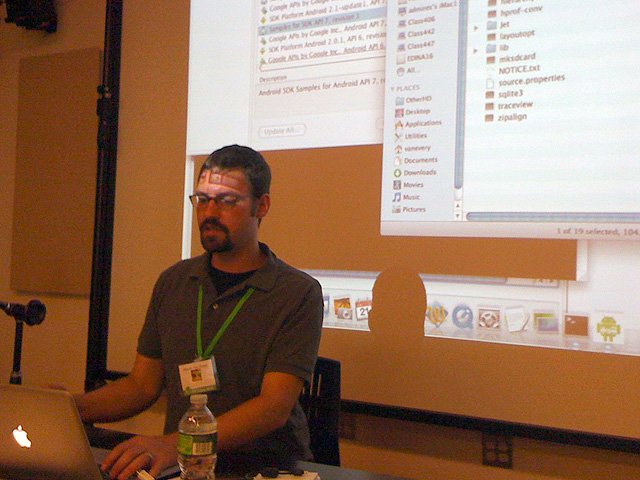 Monday I attended Hello Android by Shawn Van Every. I had attended Shawn's Smartphone Studio earlier, where we played with PhoneGap and Appcelerator, but this session was devoted to getting started with the actual Android SDK. Shawn helped us get situated in Eclipse with all the Android tools, and then guided us through making our first "Hello Android" app. Above Shawn demonstrates the Android SDK.
With so many excellent camp sessions, it's hard to pick a favorite, but Craig Kapp's on Augmented Reality is at the top of my list for the moment. Augmented Reality is really magical stuff. It's a live view of the physical world whose elements are augmented by virtual imagery. The work that Craig does with AR is fascinating. And the way he explains it all is just perfect. For the time being, this is the number one reason to still be involved in ActionScript development.
And I attended another couple of great sessions today. Matt Parker lead a session called Total Eclipse in which he got everyone up to speed on using the Eclipse IDE for Java development. I also attended Peter Menderson's Get Your Hands Dirty! where he illustrated mold making with two-part rubber and plastic compounds as well as plaster. We also made a silicone rubber mold and cast with polyurethane plastic and foam.
› Matt