Rebuilding...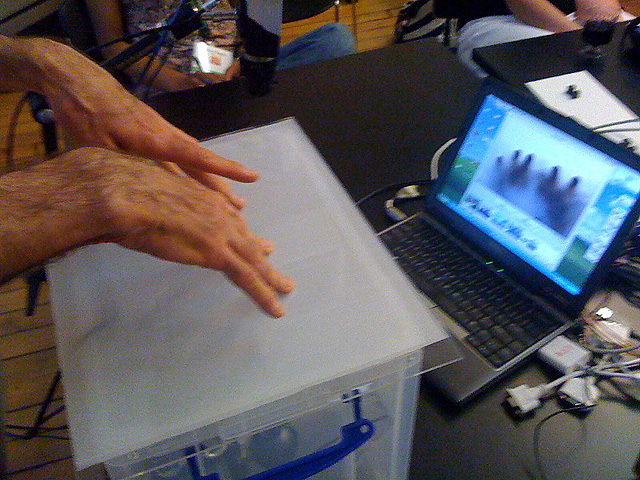 Last night's ITP Camp sessions where Design Something That Solves A Problem by Dustyn Roberts and Sensors and Interface Board–Easy! by Stephen Lewis.
Ms. Roberts presented several techniques for problem-solving, brainstorming, and idea evaluation.
Mr. Lewis showed how easy it is to work with the Hagstrom Electronics KEAD6 Board. The KEAD6 is essentially a no to little programming required alternative to the Arduino. It features 6 input channels, which can be attached to various switches, potentiometers, or sensors, and individually configured through the use of a setup utility. The board will then send keystrokes or joystick commands to the attached computer. The setup requires Windows, but the board will then work with a Mac or PC. It looks like an great system for testing new sensors, prototyping, building simple projects, and teaching children about electronics.
Lewis then showed us how to construct a multi-touch surface in Processing for under $100 using a clear box, a sheet of plexiglass, a mirror, and a webcam. Pretty badass!
› Matt